Do You Need to Speak with Kathleen Immediately?
Calling Through the ETHER Phone Service
Kathleen is available for Ether supported readings. This is the ONLY method whereby you can have a phone reading done by Kathleen without an appointment.
Kathleen has been using the Ether service for more than 10 years. It is an ethical and honourable company that processes credit card payments reliably and safely.
All other phone psychic readings are arranged via email by appointment ONLY via PayPal payment.
Once you have made your credit card payment through Ether you can arrange an appointment or call back within a particular time frame.
To read a more thorough explanation about how the Ether system works please click the following link: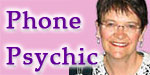 You are welcome to call for a phone reading through Ether arranged online or you may call direct from your phone toll free to 1-888-693-8437. Kathleen's extension at Ether is 02663678.  Ether Customer Service CALL 1-800-975-1379
Clients express how convenient it is to be able to speak to Kathleen immediately.
When you need to talk to a psychic because of an emergency in your life, it's nice to know someone so credible and professional is immediately available!