Women, the Tarot & Magic eBook
By Famous Canadian Psychic Kathleen Meadows, M.A.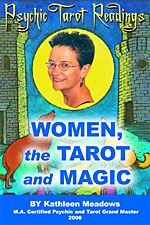 Are you interested in the Tarot, women's natural psychic ability and the feminine journey to enlightenment? Do you want more out of a reading than just a snapshot of your future? You learn how to look at the archetypal tarot symbolism that has been circulating around the world for centuries from a fresh woman-centered perspective.
This 45 page ebook will show you how to use the cards to guide your life. Kathleen discusses how you can work with the symbols to solve a problem or to gain long range insights into where your life is heading. This book can be used with any of your favourite decks.
BUY NOW the spiritual growth eBook "Women, the Tarot and Magic"
eBook Content
Confessions of a Woman-Centred Psychic Reader
Tarot as a Path to Feminine Enlightenment
7 Tarot Lessons in Psychology
Meditating with the Tarot
Tarot for Healing
Storytelling the Tarot
Psychic Ability & Reading the Tarot
ONLINE Psychic Advisors & Psychic Research
Women, the Tarot and Magic has become an inspiration for women all over the world. It reclaims the positive, and nurturing values of the tarot dating pre-patriarchal times. Kathleen brilliantly combines mystery, mythology, philosophy and comparative religion with an informed spiritual ebook and feminist perspective.
Women, the Tarot and Magic challenges you to celebrate our ancient feminine heritage. This book is a vision of hope and transformation. Kathleen shows how the tarot's symbols and myths can provide insight into the loving power of the Goddess for women and men today.
Is this women's spirituality ebook for you?
Women, the Tarot and Magic ebook is a landmark chapter in the ongoing dialogue between womyn's studies and the Tarot. This book is about how the tarot can be a serious, and magical tool that women can use to find their true path of self-realization and authenticity. Kathleen has been a teacher, counselor and guide to women of all ages for more than 35 years, through the labyrinth of oppression, misogyny, and self-negation into the light of true self and personal agency. This ebook doesn't sugar coat the journey or the process to self-empowerment – if you are ready to take this Fool-ess's leap, you'll find this popular spiritual e book a unique tool to have in your magic bag.
Testimonials
"Kathleen, thank you so much for writing this e-book. I haven't completed it yet, but want more time to sit down and digest it all. The pages that i did read however, were so inspirational that I had to run out and buy a Tarot deck for beginners, along with a book, ("Discovering Yourself Through the Tarot: a Jungian Guide to Archetypes and Personality")! Your writing clearly demonstrated to me the benefits the Tarot holds for self understanding and also as a spiritual guide, that I wanted to experience this for myself. Thank you for sharing your insight, I always love what you have to say. Now I want to make some Tarot friends who I can discuss all of this with, it's just so inspiring.
Last night I read a few more pages of your writing, and get so intrigued and inspired, I so desperately want to learn the Tarot!"

Thanks again! Geraldine Sweeney
"Since my time connecting with Kathleen, I have been awed and inspired by her multiple talents. As a teacher, counselor and author possessing great psychic ability she is wonderfully generous in sharing her wealth of knowledge and insight. She is particularly skillful in her approach creating colorful imagery in order to distill and express that which is complex and often imperceptible yet never compromised by her sensitivity. Anything written by Kathleen is a treasure I look forward to."

Sincerely, Gloria
We will e-mall you the download link in 24 hours of receiving your payment.
We are accepting secure PayPal online payment. To read more about PayPal click here PayPal is free for buyers. Shop without sharing financial information even without a PayPal account.
In order to view spiritual ebooks you'll need Adobe Acrobat Reader installed on your computer. You can download Acrobat Reader for free from the Adobe web site.